Auckland Sports & Outdoors on Today
Event Locations

Event Types

Sports & Outdoors

Adventure, Extreme
Archery
Athletics, Track & Field
Aviation
Baseball, Softball
Basketball
Boxing, Martial Arts, Wrestling
Canoe, Kayaking, Rowing
Cheerleading, Marching
Cricket
Croquet
Cycling, MTB
Games, Carnivals
Golf
Gymnastics
Hockey
Horses, Racing, Equestrian
Lawn, Indoor Bowls
Multisport, Triathlon
Netball
Outdoors, Tramping
Rugby Union, League, Touch
RWC Rugby World Cup 2011
Sailing, Boating, Fishing
Shooting
Skating
Ski, Snow, Winter Sports
Soccer
Surfing, Ski, Watersports
Swimming
Tennis, Squash, Raquet
Volleyball
Wind & Kite Surfing
Event Listings (1-1 of 1)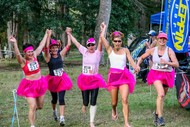 Fun Runs & Walks Events
Riverhead Forest, Riverhead, Auckland

Today only at 0:00 a.m.
A relay for teams of 2, 4 or 6 people completing as many laps as possible (non-stop) in either 8, 12 or 24 hours. One runner at a time on the course which goes through the tent city so you transition right outside... More...

---
This Week
Today/Monday

(1)
Villa Te Soro Bed and breakfast
- Bed and Breakfast.
Set in Auckland in the Auckland region and Auckland Botanic Gardens reachable within 31 km, Villa Te Soro Bed and...
Devonport Volcanoes Afternoon Tour from Auckland
- Half-day Tour - Auckland.
Starting from $75.00 per person
.
A guided tour of the volcanic features in Devonport, including Pupuke Lake explosion crater, the lava flows at...