Auckland Sports & Outdoors on Thursday
Event Locations

Event Types

Sports & Outdoors

Adventure, Extreme
Archery
Athletics, Track & Field
Aviation
Baseball, Softball
Basketball
Boxing, Martial Arts, Wrestling
Canoe, Kayaking, Rowing
Cheerleading, Marching
Cricket
Croquet
Cycling, MTB
Games, Carnivals
Golf
Gymnastics
Horses, Racing, Equestrian
Lawn, Indoor Bowls
Marathons, Fun Runs, Walks
Motorsport
Multisport, Triathlon
Netball
Outdoors, Tramping
Rugby Union, League, Touch
RWC Rugby World Cup 2011
Sailing, Boating, Fishing
Shooting
Skating
Ski, Snow, Winter Sports
Soccer
Surfing, Ski, Watersports
Swimming
Tennis, Squash, Raquet
Wind & Kite Surfing
Event Listings (1-1 of 1)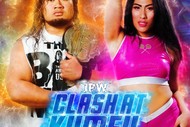 Wrestling Events
Mt Eden War Memorial Hall, Balmoral, Auckland

From Saturday 18 January 2020 to Saturday 29 February 2020
For a limited time, you can purchase a 2020 Season Pass to ALL Auckland Impact Pro Wrestling live events.* Secure your Front or Second row seats for 2020 and save. This year the seat you choose will be yours for the... More...

---
Granny flat 2 bedrooms Independently
- Homestay.
Located in Auckland, 10 km from Auckland Botanic Gardens and 16 km from Mount Smart Stadium, Granny flat 2 bedrooms...
Guided Segway Tour to the summit of Mt Victoria in Devonport Auckland
- Maori - Auckland.
Starting from $130.00 per person
.
Experience the sheer joy of riding a Segway as you 'glide' effortlessly to the summit of Mt.Victoria the highest...