Kapiti Coast Sports & Outdoors
Event Locations

Event Types

Sports & Outdoors

Adventure, Extreme
Archery
Athletics, Track & Field
Basketball
Boxing, Martial Arts, Wrestling
Canoe, Kayaking, Rowing
Cheerleading, Marching
Cricket
Croquet
Cycling, MTB
Games, Carnivals
Golf
Horses, Racing, Equestrian
Lawn, Indoor Bowls
Marathons, Fun Runs, Walks
Motorsport
Multisport, Triathlon
Netball
Sailing, Boating, Fishing
Shooting
Ski, Snow, Winter Sports
Surfing, Ski, Watersports
Swimming
Tennis, Squash, Raquet
Volleyball
Wind & Kite Surfing
Event Listings (1-2 of 2)
Outdoors, Tramping Events
Cantharis Alpacas, Paraparaumu, Kapiti Coast

From Sunday 23 August 2020 to Sunday 30 August 2020
Cantharis Alpacas is one of the larger alpaca farms in the Wellington region. We are opened for pre-booked and guided farm tours over our property in the hills above the Kapiti Coast for you and the alpacas to be... More...

---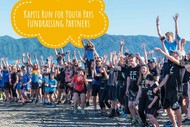 Fun Runs & Walks Events
Paraparaumu Beach, Paraparaumu, Kapiti Coast

Sunday 21 March 2021
Anchor your calendar now to take part in the 2021 Web Genius Kapiti Run for Youth to raise funds and fitness for Kapiti youth while having fun strolling or running the beautiful Kapiti coastline. KR4Y has raised more... More...

---
Beachfront Apartments
- Apartment.
Beachfront Apartments is located in Paraparaumu Beach and offers a garden, a private beach area and a terrace. This...
From Source to Sea Remutaka Cycle Tour (9 Hours)
- City Tour - Wellington.
Starting from $135.00 per person
.
We will pick you up with a 9am shuttle from your accommodation in Wellington and travel up to either Kaitoke or Maymorn...