Upper Hutt Sports & Outdoors
Event Locations

Event Types

Sports & Outdoors

Adventure, Extreme
Archery
Athletics, Track & Field
Aviation
Baseball, Softball
Basketball
Boxing, Martial Arts, Wrestling
Canoe, Kayaking, Rowing
Cheerleading, Marching
Cricket
Croquet
Golf
Gymnastics
Hockey
Horses, Racing, Equestrian
Lawn, Indoor Bowls
Marathons, Fun Runs, Walks
Motorsport
Multisport, Triathlon
Netball
Outdoors, Tramping
Rugby Union, League, Touch
RWC Rugby World Cup 2011
Sailing, Boating, Fishing
Shooting
Skating
Ski, Snow, Winter Sports
Soccer
Surfing, Ski, Watersports
Volleyball
Wind & Kite Surfing
Event Listings (1-1 of 1)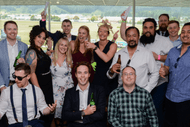 Horse Racing Events
Wellington Racing Club, Upper Hutt, Wellington Region

Sunday 3 May 2020
Nothing beats a day of rest – apart from a decent Sunday Session at Wellington Races! Swap your Sunday roast for a table in the Members Stand with the finest dining views on offer. Rally up your mates or bring the... More...

---
Tranquility Homestay Bed & Breakfast
- Bed and Breakfast.
Tranquility Homestay Bed & Breakfast in Upper Hutt has 3-star accommodation with a garden, a terrace and a shared...
2 Hour Electric Bike (eBike) Hire
- E-Bike Tour - Wellington.
Starting from $45.00 per person
.
Discover Wellington's beautiful Eastern Bays and beyond, when you hire an electric bike (eBike) from The Bike Shed...